All of the problems in one little page
Page 39.   Paulo Bacigalupi sets a stage for Emiko, one of the four main characters in The Windup Girl that we read about this week.
I don't mean to suggest that we haven't encountered problematic writing, character, character development, or plot conflict yet. I also don't mean to suggest that there are not other interesting passages to pull apart and examine.
Let's begin.  Bacigalupi wrote;
"Emiko sips whiskey, wishing she were drunk, and waits for the signal from Kannika that it is time for her humiliation.  A part of her still struggles against it but the rest of her – the part that sits with her midriff-baring mini-jacket and tick pha sin skirt and a glass of whiskey in her hand – doesn't have the energy to fight" (p. 39) So, already from this short paragraph, we know that there is some sort of sexual scene that's about to play out.  What humiliation, though? Immediately I think of prostitution, but there's more to it than that (as we find out later).  Honestly, I thought of Hester Prynne in Hawthorne's The Scarlet Letter. I thought of her punishment for her promiscuity being humiliation.  In that case, she did something that "earned" her humiliation. This context feels different.  She doesn't "deserve" what ever is coming next. Moreover, she doesn't want whatever is next.  The humiliation is not her fantasy.  She wishes she was drunk to get through; she wishes she had the energy to fight what ever is coming. This speaks to rape culture on so many levels.

"And then she wonders if she has it backwards, if the part that struggles to maintain her illusions of self-respect is the part intent upon her destruction" (p. 39). what. WHAT.  "illusions" of self-respect.  So, she no longer has self-respect because of what her life consists of now.  Further, she starts to believe that fighting back will ruin her?! On many levels I feel like this speaks to women who aren't programmed or New People.

"Nothing that Raleigh demands has not been demanded before.  Nothing that Kannika conceives to hurt her and make her cry out is truly different. Except she draws cries and moans from a windup girl.  This, at least, is novelty." Raleigh, as far as I can tell is her "master" so-to-speak, and Kannika is the "John" for what's about to happen.  I'm bothered by this passage because it suggests that she's been doing this for a long time, and that she's used to whatever is about to happen (aka the humiliation).  I'm on the edge of my seat.  What is going to happen to this poor girl?

"Look! She is almost human!" and "He had stroked her hair and said, 'You are beautiful, even if you are New People.  Do not be ashamed" (p. 39).  This passage reads me of every time someone says "you're beautiful for a fat woman/Black woman/Latina woman/short woman/smart woman" and so on.  It is  like she would more beautiful is she was "normal" or "real" (read: this also applies to when people say it to non-fictional characters).
First close reading of this page made me furious. I knew what ever was coming was not going to be good.  I knew whatever coming was going to be sexual assault (she didn't want to do it, and she couldn't say no).  I knew that whatever was coming when I turned the page was going to be brutally patriarchal and misogynist.  I was right.  Additionally, language matters to me (this is a theme in my posts, I know). For example he says "time for her humiliation" instead of "and waits for the signal that he was ready for sex" (consensual prostitution). I remember after reading this chapter, I had turned on Criminal Minds before bed.  In that episode, the mother of a missing character said that her daughter "got raped".  I was livid.  Women don't "get raped," they are raped. Children get in trouble because they did something to earn a punishment. I felt this same sensation reading this page. This humiliation is not her fantasy, yet it is humiliation and not explicitly consensual sex. Furthermore, she's New People, and we find later that she is programmed for scenes exactly like what follows, despite her wanting to fight it.  I have so far left ethnicity out of my thoughts on this post because I wanted to focus a lot on the gender part of it.  However, not only does this passage speaks towards rape culture in our culture, but in so many other cultures (and considering that she is Japanese only adds to this message about women and sex work).   Bacigalupi definitely is critical of that.  I want so badly for her to break the chains, to get out of that, to break her programming.
This is Maggie Grace who plays Kim in Taken.  In the movie, she is kidnapped and trafficked.  This is the scene where Johns sit around a circle and view her to bid.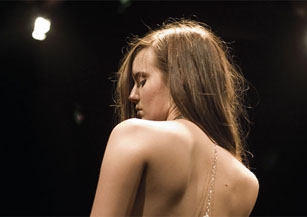 Bacigalupi, Paolo. New York, Night Shade Books. 2009. Print.